"Washington Update" Joint Dinner with PBTI sponsored by MPI Valuation and Quantum Realty Advisors
Date:
Tuesday, November 14, 2017
Location:
Kravis Center for the Performing Arts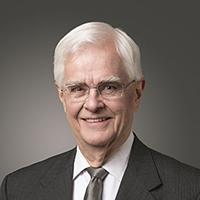 REGISTRATION FOR THIS EVENT IS NOW CLOSED.
CONTACT NATALIE CARRON WITH QUESTIONS: 561-628-3114
Thank You to our Event Sponsors:
Ronald D. Aucutt is a partner in the Tysons, Virginia office of McGuireWoods LLP and is co-chair of the firm's Private Wealth Services Group. Ron concentrates on planning and controversy matters involving the estate, gift, and generation-skipping transfer taxes, the income taxation of trusts and estates, and the rules regarding tax-exempt organizations and charitable contributions. He has extensive experience in assisting clients with the transfer of wealth from one generation to another, particularly including the orderly and tax-efficient succession of family-owned businesses. He also advises lawyers and other professionals on tax planning and controversy issues across the entire spectrum of estate planning and charitable giving, including the complex rules governing generation-skipping transfers under chapter 13 and the special valuation rules under chapter 14 of the Internal Revenue Code. He is experienced in resolving tax issues through rulings in the Internal Revenue Service's National Office and in administrative appeals throughout the country. He has contributed to the formation of tax policy through legislation since 1976, as well as in Treasury regulations, has served as an expert witness in estate and gift tax matters, and in 2014 through 2016 served three years as a member of the Internal Revenue Service Advisory Council and two years as chair of its "OPR Subgroup" (working with the IRS Office of Professional Responsibility). He was appointed in 2015 to be the Reporter for the current revision of the Uniform Principal and Income Act.
Related Document(s):