President's Letter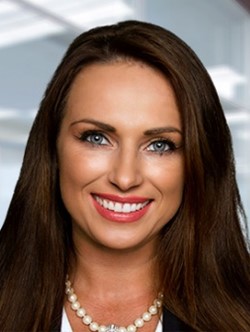 Karolina Bednarska, CFP®, AEP®
President, The East Coast Estate Planning Council
Dear Valued Members and Prospective Members:
It is my great pleasure and honor to welcome you to the 2023-2024 East Coast Estate Planning Council year for its 48th season as the newly elected President of the Council. I look forward to an exceptional year ahead and want to express my gratitude for entrusting me in this role.
As I hope you are all well and enjoying the summer, I would like to extend a sincere thank you to all of our members, sponsors, and our Board of Officers and Directors, for your continued support of the Council.
Since 1976, the ECEPC has been a vibrant and diverse organization of qualified estate planning professionals in the greater West Palm Beach area and beyond. Through educational programs and networking events, our members connect to gain insights, exchange ideas, and collaborate to offer a multi-disciplinary approach to estate planning. We are working diligently to continue to make our Council one of the best in the country and are planning an exciting season featuring nationally recognized speakers, new venues and initiatives, as well as fun and engaging social events.
The Council will be kicking off our year with the Season Opening Reception on September 19, 2023 in the beautiful and exclusive Founders Room at the Kravis Center. We will also be returning to Downtown West Palm Beach where some of our dinner meetings will be held at The Regional, and others at the National Croquet Center.
Mark your calendars now with the following 2023-2024 meeting dates and locations:
September 19, 2023: Opening Reception - Kravis Center Founders Room
October 11, 2023: Speaker Dinner Meeting - The Regional
November 7, 2023: Speaker Dinner Meeting - The Regional
December 6, 2023: Holiday Reception - National Croquet Center w/Croquet Lessons
January 18, 2024: Joint Speaker Dinner Meeting with the PBCEPC - North Palm Beach Country Club
February 21, 2024: Joint Speaker Dinner Meeting with the PBTI - National Croquet Center
March/April 2024: TBD
May 1, 2024: Speaker Dinner Meeting - The Regional
May 21, 2024: Annual Meeting & Cocktail Reception - Kravis Center Founders Room
As you can see from the above schedule, the 2023-2024 ECEPC season is one that you will not want to miss! Please renew your membership online by clicking HERE. Our membership dues this year are $425, with a discount to $400 if renewed by September 1st. This discounted rate applies to both renewing and new members. Please renew or apply soon and encourage your friends and colleagues to join us as we hope to grow our organization and network of best in class estate planning professionals. You can also invite a guest to the Opening Reception or any of our future meetings.
Additionally, we encourage you to consider sponsoring one of our upcoming events for an opportunity to highlight your company and business. We are so grateful for the support and partnership of our existing sponsors who have helped us with introducing additional meetings, rising costs of venues, and presenting quality speakers to you each year. You may review the sponsorship opportunities by clicking HERE or contact our Sponsorship Chair Lilach Fisher at lfisher@bdo.com.
We are always looking for ways to improve and serve you better and take your feedback seriously. Please feel free to reach out directly to me at Karolina.Bednarska@cibc.com or 347-436-6389, or any of the Council Board Members to give us your input as we welcome and encourage your feedback and suggestions. I also invite you to get involved in our leadership and join our committees: Membership, Programming, Sponsorship, Communications, and Young Professionals.
Finally, I would like to recognize and thank each one of your ECEPC Board Members for their time, dedication, and service to our Council, with a special acknowledgement to Michael Schiff for his leadership as President this past season. All our Board Members and our Administrator, Jaci Farina, spend a great deal of time planning the programs that we strongly believe will promote excellence in estate planning and enable our members to provide highest quality of advice to the individuals and families that they serve.
We are honored to have your continued support and are excited for a fantastic 2023-2024 season!
I want to wish everyone a wonderful summer and look forward to seeing you at our Season Kick-Off & Opening Reception in September.
Warm Regards,
Karolina Bednarska, CFP®, AEP®
President, The East Coast Estate Planning Council